The Dorchester Watershed Action Committee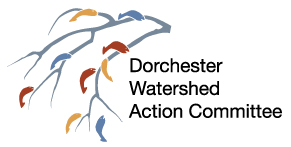 • Watershed Map
• Projects & Activities
• Community-Based Watershed Strategy
• Dorchester Watershed Report Card
In April 2015, the Dorchester Watershed Action Committee, with support from the UTRCA, sold 150 native trees to residents of the Dorchester subwatershed to encourage everyone to green up their community. Trees cost $15 to $20 and included downy serviceberry, red maple, red oak and white birch. With the success of this spring's effort, the committee looks forward to offering trees again next year. Financial support was provided by the Ontario Trillium Foundation.
The Dorchester Watershed Action Committee (DWAC) is interested in projects and activities to protect and improve the health of the Dorchester watershed. The Committee's goal is to educate and engage the community in naturalization projects, through collaboration with landowners, municipalities and agencies. The DWAC holds meetings every month (except July and August). New members are always welcome! Are you interested in:

• Joining the Dorchester Watershed Action Committee,
• Attending an upcoming meeting or event,
• Getting your class involved in a Communities for Nature project or the Watershed Report Card Program,
• Rehabilitating a section of the creek on your property, or
• Retiring portions of your fields?
Please contact Linda Smith , Community Partnerships Specialist (phone: 519-451-2800 ext. 224).
Partners & Sponsors
• Camp Bel
• Carolinian Canada Coalition
• Dorchester Mill Pond Committee
• Dorchester Golf Club
• Dorchester Scouts
• Ducks Unlimited
• Environment Canada's EcoAction Program
• London Community Foundation
• Lord Dorchester Secondary School
• Ministry of the Environment
• Ministry of Natural Resources
• Municipality of Thames Centre
• Northdale Central Public School
• River Heights Public School
• St. David Catholic School
• Saunders Secondary School
• TD Friends of the Environment Foundation
• Township of Zorra
• Upper Thames River Conservation Authority
Watershed Projects & Friends of Groups