Glen Cairn Revitalization Project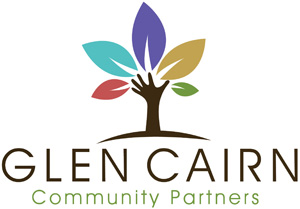 Engaging our community by developing sustainable projects that improve our environment and transform our neighbourhood.
The Glen Cairn Community Partners (GCCP) are working with local businesses, home owners, community members, the City of London and agencies to find partners and projects that will help us to improve our local environment and engage the Glen Cairn community.
Adelaide Business in Bloom competition!
Who are the Glen Cairn Community Partners?
A Community in Action!
Glen Cairn Park
An initiative was launched in fall 2013 to connect the community with their local park. This site was used as a landfill in the early 1950s and it is now time to make it a place where local residents can come together and feel more like a community.
The GCCP have hosted a variety of events in Glen Cairn Park North and East, including tree planting, garbage pick-up and open houses. These events help us connect with community members to find out their concerns about the park. The GCCP and the City of London are working together to address the community's 'Wish List' of amenities for the park.
Low Impact Development (LID)
Low Impact Development, or LID, is a stormwater management approach that uses Best Management Practices (BMPs) – small, simple designs and landscape features at the lot level to infiltrate, filter, store, evaporate and detain stormwater runoff close to its source. Less water goes into watercourses from storm sewers, helping to minimize flooding and streambank erosion, and reducing the impact on water quality. Examples of LID BMPs include rain gardens, bioswales, downspout redirects, rain barrels, and permeable pavement. These techniques can be used in new development, urban retrofits and redevelopment projects, on lawns, streets, sidewalks, medians, roofs and in parking lots.
The GCCP are looking for businesses and homeowners who would like to participate in LID projects by adding demonstration projects on their property to help promote this way of helping the environment.
See videos, photos and articles about the Glen Cairn project.
How you can get involved
• Join the committee and help make decisions
• Convert part of your property to a LID project
• Join in on the community day events
• Help promote events by putting up a poster to spread the word
• Donate towards a project
Funding support has been received from the London Community Foundation, Environment and Climate Change Canada, the Ontario Ministry of the Environment and Climate Change, and the City of London.
Projects include:
• Organizing LID workshop for the construction/ landscaper/ development and contractor industry
• Implementing the Stream of Dreams program for area students
• Installing and interpreting LID projects
• Pilot stormwater education program for students that involves both in class and outdoor components
• Integrating the City of London's Growing Naturally program with the UTRCA's Healthy Yards workshops to help homeowners implement green infrastructure projects on their own properties
• Continuing work in Glen Cairn Park North and other parklands to meet local recreation needs and integrate environmental education features and community gathering spaces
• Organizing community events to build community involvement and attract and involve new Canadians
• Hosting 2 DePave Paradise projects (neighbourhood work parties) to break up and remove an area of unused pavement and turn it into living green space
• Developing a monitoring framework for LID projects and their impact on the health of the Forks subwatershed
Glen Cairn Neighbourhood Project
Glen Cairn Low Impact Development (LID)
Watershed Projects & Friends of Groups