Oxbow Creek Watershed Project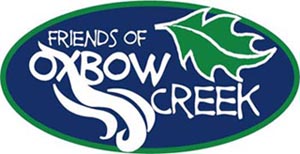 • Oxbow Creek Watershed Map
• Oxbow Creek Watershed Report Card
Oxbow Creek is a tributary of the Thames River located in Middlesex County. The creek's 89 square-kilometre watershed includes areas of the Township of Middlesex Centre (87 sq. km) and the City of London (2 sq. km). The creek is also known as Springers Creek, Ettirck Drain, Flood Drain, Patrick Drain and Irwin Drain.
The Oxbow Creek Watershed Project began in March 2003 when a group called the Friends of Oxbow Creek was created. The group's mission statement is "protecting, rehabilitating, and encouraging stewardship of the Oxbow Creek watershed." Their goals are to reduce flooding and erosion along the creek and to improve water quality by:
• encouraging environmentally friendly creek and drain maintenance procedures that protect water quality,
• identifying areas along the creek or open drains that are in need of buffers to reduce or prevent erosion and runoff,
• targeting soil erosion measures to areas of high erodibility, and
• increasing awareness through monitoring and information sharing.
Friends of Oxbow Meetings
The Friends of Oxbow Creek meet at the West Haven Golf and Country Club. All interested residents of the Oxbow watershed are very welcome to join any of these meetings. Please contact Julie Welker for information or to confirm the meeting is still on i

f the weather is questionable.
Current and Past Projects
Since the project began, the Friends of Oxbow Creek, in partnership with local schools and organizations, have planted over 5,000 trees in the watershed on private landowners' property – an area of approximately 7.5 acres.
Several classes of high school students have taken part in the Report Card Monitoring Program in the spring and fall to evaluate the surface water quality conditions and habitat assessment of Oxbow Creek.
A small concrete weir in the Municipality of Middlesex Centre was removed and replaced with a rock-riffle to control grade and erosion at the site. The removal of the weir helped to mitigate the impact on fish migration that the weir caused. Oxbow Creek is one of the few cold water fisheries within the Thames River watershed and experiences annual trout migration.
New Project Targets Rural Areas
The Friends of Oxbow Creek are interested in helping rural landowners in the Oxbow Creek watershed retire fragile agricultural land and create vegetative buffers. These projects involve planting native trees, shrubs and grasses in order to:
• retire floodplains, steeply sloped and erosion-prone lands,
• create buffer strips next to watercourses and around wetlands, and
• retire sensitive groundwater recharge/discharge areas.
The Friends of Oxbow Creek will apply for funds from various public and private partners to cover up to 100% of the total project cost. Usually the only cost for landowners is usually site preparation time (e.g. cutting the grass). The UTRCA will organize local schools and volunteers to do the actual planting.
UTRCA staff and the Friends of Oxbow Creek agree that the priority area for restoration/ enhancement/ naturalization is the watershed's headwaters, which begin at Wonderland Road North and Fifteen Mile Road. Targeting this area is the first step in improving the stream's water quality. Additional efforts will focus on the mid-reaches where there are already some significant natural heritage features to further protect the area.
If you live or have property in either of the two target areas and would like to be part of these projects, please contact: Julie Welker, Community Partnership Specialist (phone 519-451-2800 ext. 255).
Partners and Sponsors
•  Environment Canada's EcoAction Program
• Friends of Oxbow Creek
• Komoka Community Centre
• Landowners and interested citizens
• Local schools
• London Community Foundation
• Ontario Ministry of the Environment
• Ontario Ministry of Natural Resources
• TD Friends of the Environment Foundation
• Thames River Anglers Association
• Township of Middlesex Centre
• Upper Thames River Conservation Authority
• West Haven Golf and Country Club
For More Information
If you would like more information, a presentation made to your organization or club, to get involved, or to sponsor an aspect of the Oxbow Creek Watershed Project, please contact: Julie Welker, Community Partnership Specialist (phone 519-451-2800 ext. 255).
Watershed Projects & Friends of Groups