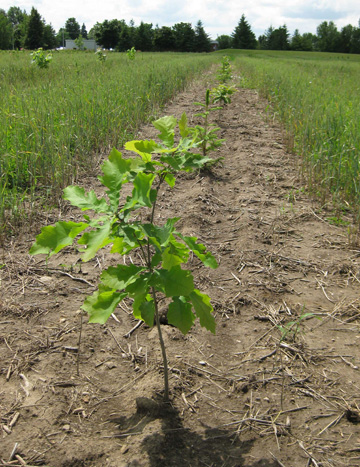 Forestry – Trees Available!
The UTRCA has trees & grants available! Please contact John Enright, UTRCA Forester (519-451-2800 ext 243).
Landowners who reside in the Upper Thames River watershed and own a minimum of 1 hectare (2.5 acres) are eligible to participate in the UTRCA's Tree Planting on Private Lands program (click on link for brochure).
The program offers:
• Large stock trees (coniferous and deciduous)
• Seedlings (coniferous and deciduous tree species, as well as wildlife shrubs)
Trees purchased through this program may be planted by the landowner or through the UTRCA's full planting service. Planting projects may include windbreaks, highly erodible land retirement and treed buffer strips along watercourses.
Choose from a variety of coniferous and deciduous trees and wildlife shrubs. Many of the species are subject to availability from nurseries. Please contact us in the fall for the best selection. The deadline for ordering is March 1.
While tree survival cannot be guaranteed, the UTRCA takes every precaution to ensure the trees are received in the best condition possible.
UTRCA Forestry Contacts
• John Enright (519-451-2800 ext. 243)
• Brenda Gallagher (519-451-2800 ext. 260)
• Jay Ebel (519-451-2800 ext. 242)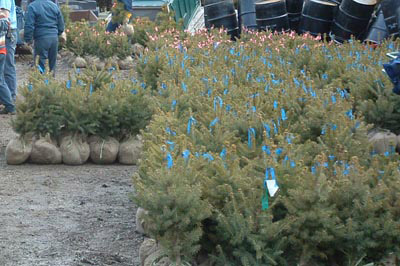 Forestry & Tree Planting Information
• Tree Planting on Private Lands (program brochure)
• How to plant your large stock bare root deciduous tree
• How to plant your bare root seedling
• How to plant your potted or balled & burlap coniferous tree
• All about windbreaks – series of 4 videos produced by OMAFRA and local Conservation Authorities
• Emerald Ash Borer
• Native Species
• Invasive Plants
---
Memorial Forests
Memorial Forests provide a lasting tribute to loved ones, and improve the environment. The UTRCA is involved in five memorial forests across the watershed.
UTRCA Memorial Forests Contact
 Karen Pugh (519-451-2800 ext 252)