Flood Control Structures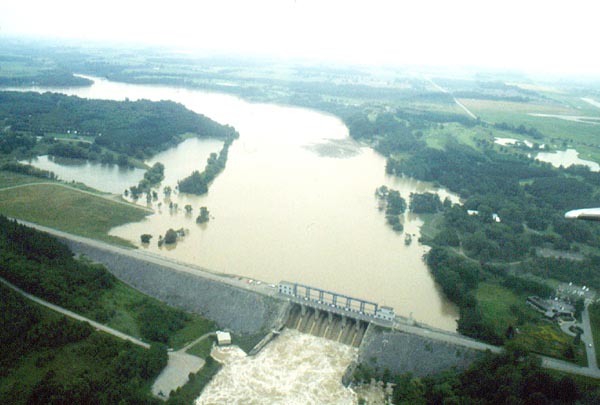 The UTRCA in conjunction with its municipal partners owns, operates and maintains a system of structures that reduce the damages caused by flooding on the Upper Thames River system. The Upper Thames Valley Conservation Report (1952) recommended a series of eight dams as essential for complete flood control on the Thames River system. All of the dams, along with additional structural measures such as dykes and channels, were to be operated in an integrated manner to prevent flood damage throughout the river system.
Today, there are three major flood control dams in the UTRCA watershed as well as a major dyke system in London (including the West London Dyke) and St. Marys and a channel in Ingersoll. The Conservation Authority's first major project was the construction of a flood control dam upstream of London on the North Thames River.
Fanshawe, Wildwood and Pittock Dams and Reservoirs were designed to control downstream flooding and, in the case of Wildwood and Pittock, to increase summer stream flows. The reservoirs also provide a range of recreational opportunities for thousands of people each year. The flood control infrastructure is estimated to have a replacement value of $150 million.
Today, rather than attempting to keep the river's floodwaters away from the people who have moved into the floodplain areas, the Conservation Authority works to keep the human development away from the river, to leave the floodplain available to the Thames when it needs the space for flooding. Regulating development near the river is a cost effective, environmentally sound means of preventing flood damage. Floodplain regulations and flood control structures, such as Fanshawe Dam and the London Dyke System, together protect watershed residents from a repeat of the devastation caused by floods in the past.
Significant floods that occurred in 2000, 2008 and 2009 are recent examples of the need for this protection. Operations at Fanshawe Dam and Reservoir reduced flows on the North Thames River by up to 50% when record amounts of rain fell in parts of the watershed. (Go to Fanshawe Dam page to learn how the dam is operated.)