• 36,000 square feet
• Construction costs $9.6M ($265 sq/ft)
• Total costs $12.3M (on budget)
• Major construction costs ($3,840,000):
o Concrete – $1,800,000
o Glass – $800,000
o Stone – $500,000
o Structural steel – $320,000
o Flooring – $215,000
o Roofing – $205,000
o Almost 38% of the construction costs are concrete/glass/stone/steel – durable, low maintenance materials – links to the guiding principle of "long term fiscal responsibility"
• Mechanical and electrical systems are reducing energy use by 71% over the minimum requirement for energy efficient buildings as determined by the Model National Energy Code for Buildings. We will recover the premium for the green initiatives within 4-6 years. In time, the energy savings alone could pay for the capital cost of the building.
• Allowance for growth with growth connection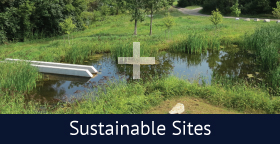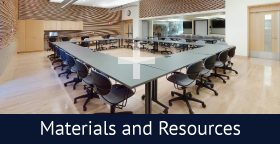 ---
LEED® Platinum Certified
LEED® (Leadership in Energy and Environmental Design) is North America's premier green building rating system. Administered by the Canada Green Building Council, this third-party rating system awards points to buildings according to the sustainable features they incorporate in six categories.
Rent The Facility
Please contact
Nora Pond
, Upper Thames River Conservation Authority (519) 451-2800
Where We Are
The Watershed Conservation Centre is located at 1424 Clarke Road, London, Ontario N5V 5B9