Indoor Environmental Quality
---
The Indoor Environmental Quality performance area employs measures to provide a healthy, comfortable and productive indoor environment for the building occupants.
---
1. An indoor air quality management plan was designed and implemented during construction and before the building was occupied to remove indoor air pollutants created during the construction and minimize contamination of materials. An indoor air quality test was completed prior to occupancy to ensure the air quality was suitable for occupancy.
2. All products and materials used in the WCC are low-emitting/low off-gassing to help protect the indoor air quality.
3. Fresh air is dispersed through high volume, low velocity air diffusers located throughout the building. Dampers in each diffuser adjust the local flow of fresh air in response to CO2 sensors that are installed at every air-handling system and in each zone of the building. These sensors provide sufficient ventilation during periods of high occupancy and help to save energy during unoccupied periods.
4. Some windows can be manually opened and there are additional thermostats throughout the building, allowing employees comfort control over their work environment.
5. Fresh air produced by plants on top of the stacked meeting rooms circulates throughout the building.
6. The building's design and orientation maximizes daylighting so that 75% of spaces have access to daylight. The layout of the workstations and offices provide views to the outdoors for 90% of the spaces. Interior shades can be mechanically lowered if desired.
Watershed Conservation Centre
Rent The Facility
Please contact: Nora Pond, Upper Thames River Conservation Authority, (519) 451-2800 ext. 221 or pondn@thamesriver.on.ca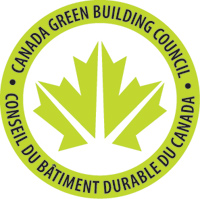 LEED (Leadership in Energy and Environmental Design) is North America's premier green building rating system. Administered by the Canada Green Building Council, this third-party rating system awards points to buildings according to the sustainable features they incorporate in six categories.