Materials & Resource Selection
---
The Materials & Resource Selection category looks to strategies that efficiently use and dispose of building materials in ways that lessen negative impacts on the environment.
---
1. During construction 90% of all construction waste generated was diverted from landfill.
2. Nearly 20% of the building materials contain recycled content:
• Concrete contains a minimum of 25% recycled content
• Asphalt contains a minimum of 25% recycled content
• Steel contains a minimum of 40-50% recycled content
• Interior wall systems contain a minimum 45% recycled content
3. 27% of the building materials (including concrete, wood and glass) were extracted and manufactured locally (within 800 km of the project site), which means less transportation energy was used to bring these materials to the construction site.
4. 81% of all wood-based materials are FSC-certified (Forest Stewardship Council). The FSC certification ensures wood products come from responsibly managed forests that are evaluated to meet FSC's strict environmental and social standards. Using FSC certified products protect forests from exploitation through unsustainable forestry and manufacturing practices.
5. The HVAC system does not contain hydrochlorofluorocarbons (HCFCs). HCFCs are being phased out in developing countries because they are ozone-depleting compounds.
Watershed Conservation Centre
Rent The Facility
Please contact: Nora Pond, Upper Thames River Conservation Authority, (519) 451-2800 ext. 221 or pondn@thamesriver.on.ca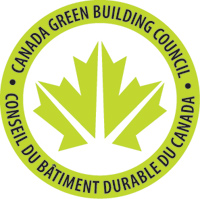 LEED (Leadership in Energy and Environmental Design) is North America's premier green building rating system. Administered by the Canada Green Building Council, this third-party rating system awards points to buildings according to the sustainable features they incorporate in six categories.