Other Features
Location in Fanshawe CA The UTRCA Building Committee spent considerable effort in selecting the site for the WCC. The Committee developed a weighted site evaluation matrix that included 11 criteria such as: available room for future growth, proximity to public transportation, low energy site features, natural heritage features, and access to recreational opportunities such as trails. Ten potential sites were identified and the site receiving the highest overall ranking was the location of the original administration office.
Meeting Rooms Having multiple meeting rooms was identified as a high priority in the needs assessment. The WCC has 11 meeting rooms in total – the boardroom and 2 large rooms adjacent to it, plus 8 stacked rooms (including 3 that can be combined). Some of the meeting rooms have monitors and conference call capabilities. The boardroom is available for use by non-profit partners, municipalities, agencies. Sliding wall partitions can limit access to the rest of the building.
Storage Bunker The bunker replaces expensive offsite storage of files that we are required to keep, so we no longer have those annual fees ($13,000/year). Files are in the process of being returned to us now. Phase 1 of the project was construction of the new facility. Phase 2 included moving into WCC, demolishing the old office, and building the storage bunker in the footprint of the old office. Above the bunker is the green roof and front entrance.
Recycling Centres The internal Trash Talkers team worked with environmental studies students from UWO to develop a plan for waste disposal, recycling and composting. We have two recycling centres where staff sort their waste, recycling and compost.
Wet Lab The wet lab is used by our biologists. We had a long-standing relationship with a professor at UWO and we were able to use their lab space for free. When that professor left, we lost our use of the lab so this room became a need. The lab is used by staff for such tasks as analyzing benthic samples and incubating turtle eggs.
Quiet Room The quiet room also functions as a First Aid room and prayer room.
Flood Control Room Key areas such as the flood control room are on a back up generator in the event of a power failure.
Wellness Room The wellness room is used for staff training that otherwise we would have to pay for – we rented space off site for use of force and first aid training. As an organization we really support wellness as a lifestyle with a staff wellness team. We have a very low use of prescription drugs, which keeps our premiums low. The wellness room is also used by staff for rehabilitation and physiotherapy.
Growth Space & Growth Connection The unoccupied areas are part of the building's 25% growth space. When we toured other new facilities, we found they consistently underestimated the need for office space and were already making changes or planning additions. If we ever need to expand, the building is designed with a growth connection on the east end.
Sound Masking, Clouds A sound masking system and ceiling "clouds" help to mute noises and reduce distractions.
Watershed Conservation Centre
Rent The Facility
Please contact: Nora Pond, Upper Thames River Conservation Authority, (519) 451-2800 ext. 221 or pondn@thamesriver.on.ca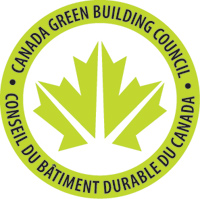 LEED (Leadership in Energy and Environmental Design) is North America's premier green building rating system. Administered by the Canada Green Building Council, this third-party rating system awards points to buildings according to the sustainable features they incorporate in six categories.