Watershed Conservation Centre – Timeline
• 1952 – Fanshawe Dam officially opened, UTRCA administration offices housed in building on north side of dam
• 1967 – Offices in dam building congested and unsuitable for occupancy
• 1969 – New administration building constructed south of reservoir, providing 4500 square feet, 16 workstations, boardroom, lunchroom, library
• 1979 – Administration building addition constructed for a total of 9500 sq. ft., 35 workstations
• Early 1990s –
– Two used portables added as temporary solution
– Dam offices renovated to accommodate 10 workstations
– Administration building workstations doubled up, library and other areas turned into workstation areas
• 2004 – Strategic Plan provided recommendations to resolve issues such as lack of meeting rooms, storage areas, parking areas, overcrowded work stations, HVAC problems, septic system issues, code violations
• January 2006 – Request for Proposals for a Needs Assessment with three components:
– Functional Planning Assessment – structure of organization, needs of the staff
– Building Condition Report – structural, mechanical, electrical, code issues, designated substances
– Development of Potential Options – renovate, renovate and construct addition, new building, move to another building, lease
• March 2006 – Randy Wilson Architect Inc. selected to complete Needs Assessment
• October 2006 – UTRCA Board of Directors (BOD) approved:
– Establish a Building Committee to review Needs Assessment and to recommend a course of action to the BOD
• April 2007 – Building Committee developed four guiding principles for the preferred option:
– Maximize the effectiveness and efficiency of staff and their ability to deliver products and services, and their ability to work with other staff, clients and partners.
– Reflect and support the existing positive culture of the organization including promotion of health and wellness, employee and client safety, accessibility, and a cross-functional team approach to delivery of our products and services.
– Maximize options for energy conservation and environmental design.
– Strike a balance among the sometimes competing interests of a) meeting the current and future needs of the organization, b) incorporating design standards that will ensure a minimum 40 year life expectancy, and c) fiscal responsibility.
• April – November 2007 – Building Committee completed work on four fronts:
– Functional plan
– Plan for financing the project
– Site analysis and selection
– Interim measures
• November 2007 – Building Committee brought recommendations to the BOD, which approved:
– Construction of a new building
– Building Committee to continue to oversee the process
– Retain a professional architect to assist with the site selection process
– Prepare a preliminary building design that incorporates Leadership in Energy and Environmental Design (LEED) principles or better
– Establish a Finance Subcommittee to pursue financing options
– Finalize a Communications Plan
• April 2008 – Randy Wilson Architect Inc. retained to:
– Confirm program viability
– Complete site selection process
– Initiate design development
– Determine project costs
– 56 LEED credits targeted (Platinum certification) (Sustainable Sites 11 credits; Water Efficiency 5 credits; Energy & Atmosphere 16 credits; Materials & Resources 6 credits; Indoor Environmental Quality 13 credits; Innovation & Design Process 5 credits)
• August 2008: BOD approved:
– Pursue new administration building of approximately 30,000 sq. ft. at an estimated cost of $12 million, with the target of achieving LEED platinum certification
– Build the new facility within the existing precinct of the current office building, pending results of the geotechnical report and other necessary site evaluations
– Conduct an Environmental Impact Study (EIS) on the selected site and have the EIS peer reviewed
– Move the main entrance to the conservation area from Clarke Road to Fanshawe Park Road as part of this process
• December 2008 – Staff Building Team established to ensure the design of the new building meets the organization's functional needs and includes practical and innovative environmental solutions
• 2009-2011 – Staff subteams established:
– Information Technology
– File Management
– Landscaping
– Alternative Energy Demonstration
– Recycling/Composting
– Cleaning
– Decorating
– Workstation Protocol
– Interpretation/Education
• 2010 – Completed plan development, prequalification, tender, contract awarded to Graceview Enterprises Inc. (BOD approved)
• September 2010 – Construction started
• June 2012 – Staff move into new facility, phase 2 of construction begins (demolition/removal of old admin office and portables, followed by construction of storage bunker and front entrance)
• January 2013 – Phase 2 completed
• May 2013 – Watershed Conservation Centre official opening
Watershed Conservation Centre
Rent The Facility
Please contact: Nora Pond, Upper Thames River Conservation Authority, (519) 451-2800 ext. 221 or pondn@thamesriver.on.ca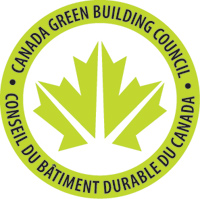 LEED (Leadership in Energy and Environmental Design) is North America's premier green building rating system. Administered by the Canada Green Building Council, this third-party rating system awards points to buildings according to the sustainable features they incorporate in six categories.