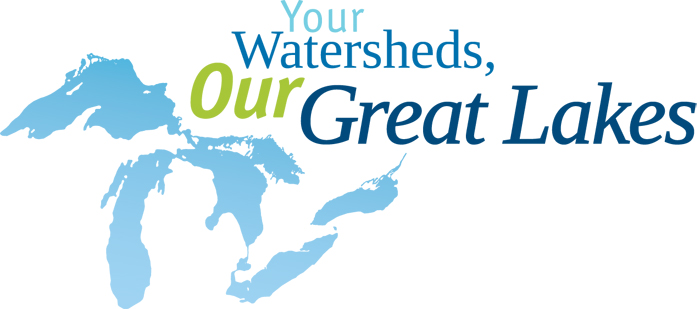 The Great Lakes provide the largest system of fresh surface water on the globe. We rely on this important resource for water, energy and food. The Great Lakes – and their watersheds – help us to adapt to climate change, provide us with clean drinking water, and offer abundant opportunities for outdoor activities to keep our minds and bodies healthy.
There is an increased focus on the health of the Great Lakes, including the 2012 Canada – U.S. Great Lakes Water Quality Agreement and Ontario's Great Lakes Strategy (2012).
Major algae blooms from excess phosphorus are a critical issue for Lake Erie, impacting aquatic health and water quality. The Thames River watershed is one of the largest watersheds in the Lake Erie basin and contributes 30% of the phosphorus that is coming from Ontario.
---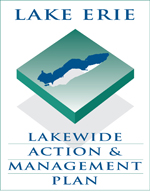 The Lake Erie Lakewide Management Plan (LaMP) has developed a Binational Nutrient Management Strategy (2011) that makes reducing phosphorus from land use activities a priority, and sets loadings targets for Lake Erie and its tributaries. The Thames has been identified as a priority watershed for the successful management of phosphorus loads to the lake. Addressing existing and emerging water quality and quantity concerns will benefit all who live, work and recreate in the Thames River watershed and, by extension, Lake St. Clair and Lake Erie.
Lake Erie Binational Forum
The Lake Erie Binational Forum is a public forum working to promote and achieve effective Lake Erie basin-wide implementation of Lakewide Management Plan (LaMP) goals. With new and long-term members, the Forum successfully engages civic and community leaders, stakeholder groups, and local and regional media outlets about major stressors to Lake Erie that threaten the economic viability of the region and the health of the citizens.
The Lake Erie Binational Forum website is a tool to involve the various communities and the general public. It houses current information, research and analysis regarding a variety of stressors to the Lake Erie ecosystem, as well as a variety of video tutorials by some of the region's most highly regarded experts. The site seeks feedback from members of the target groups, including whether or not they have implemented conservation practices.
New Forum members are always welcome! For more information, contact Teresa Hollingsworth at the Upper Thames River Conservation Authority.
---

The Thames River Clear Water Revival is a partnership initiative that aims to improve the health of the Thames River, Lake St. Clair and Lake Erie. The first step is to develop a Water Management Plan that focuses on issues related to water quantity and water quality. The broader Thames Revival will consider all the interactions of land, water, plants, animals and people in the Thames River watershed.
Links to More Great Lakes Information
• Water Quality in Ontario (2012) (Ontario Ministry of the Environment)
• Ontario's Great Lakes Strategy (Ontario Ministry of the Environment)
• Great Lakes Guardian Community Fund (Ontario Ministry of the Environment)
• Binational.net (US EPA & Environment Canada)
• Great Lakes Water Quality Agreement
• Lake Erie Ecosystem Priority (LEEP) (International Joint Commission)
• Lake Erie Millennium Network
• State of the Great Lakes 2011 Highlights
• Great Lakes Commission