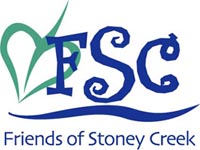 The Friends of Stoney Creek are a group of concerned citizens who work with the UTRCA, the City of London and the local community to improve the health of Stoney Creek. Since 1992, the Friends and their partners have been implementing hands-on stream rehabilitation projects along the creek, creating educational opportunities, and sharing their experience and knowledge.
The Friends hold open meetings on the second Thursday of every month (except July and August) at 7:30 pm, at the Church of St. Jude at the corner of Adelaide Street and Fanshawe Park Road. New members are always welcome!
Are you interested in:
• Joining the Friends of Stoney Creek,
• Attending an upcoming meeting,
• Attending the Community Day or the Thames River Clean Up,
• Getting your class involved in a Communities for Nature project or the Watershed Report Card Program,
• Rehabilitating a section of the creek on your property,
• Retiring portions of your fields?
Please contact Linda Smith, UTRCA Community Partnership Specialist (phone 519-451-2800 ext. 224).
Partners & Sponsors
CAW Local 27
City of London
Community associations
Enbridge Inc.
Environment & Climate Change Canada's EcoAction Program
Graham Family EcoPark
Green Apple School Program – A Metro Initiative
Girl Guides of Canada
Local school students
London Community Foundation
London Dog Owner's Association
Natural Outdoor Activity Heritage Conservation Club
Nature London
Ontario Ministry of Natural Resources & Forestry
Roots & Shoots
Scouts Canada
Shell Environmental Fund
Sisters of St. Joseph
Sparks! Neighbourhood Matching Fund
TD Friends of the Environment Foundation
Tree Canada
TRY Recycling Inc.
Upper Thames River Conservation Authority
Watershed Projects & Friends of Groups